FOR THE GREATER GOOD
Our work for the Charity and Not for Profit Sectors
Charities, further and higher education, tourism, housing, healthcare and social enterprise are key employers in Scotland.
With over 24,000 registered charities in Scotland, the size and diversity of the not for profit sector is testament to the innovative and inclusive communities alive and well. Those employed in these organisations have access to a wide variety of career experiences and opportunities.
Our team has an exceptional track record of customer care and expertise within this sector and are renowned for their integrity and expertise. We understand the challenges and opportunities of working with a not for profit organisation. An expansive network of contacts across these organisations also provides us with unique market insights into this vibrant sector.
To arrange a chat with a member of our Not for Profit team, please just get in touch.
COMMITTED TO CHARITY
Help Scotland Scran: iMultiply's Effort to Help People Struggling to Feed Their Families in Scotland.
Help Scotland Scran:
At the end of 2022, iMultiply decided it was time to refresh our charity commitment. As a small business invested in contributing to the ecosystems we are a part of, we've founded "Help Scotland Scran", an initiative dedicated to helping people struggling to feed their families in Scotland. The causes of food scarcity are varied and complex. As such, we have partnered with charities across Scotland who approach this issue holistically, supporting their communities to not only address food deprivation, but its causes and consequences. We are extremely proud to be partnering with Community One Stop Shop (COSS) in Edinburgh and Move On in Glasgow.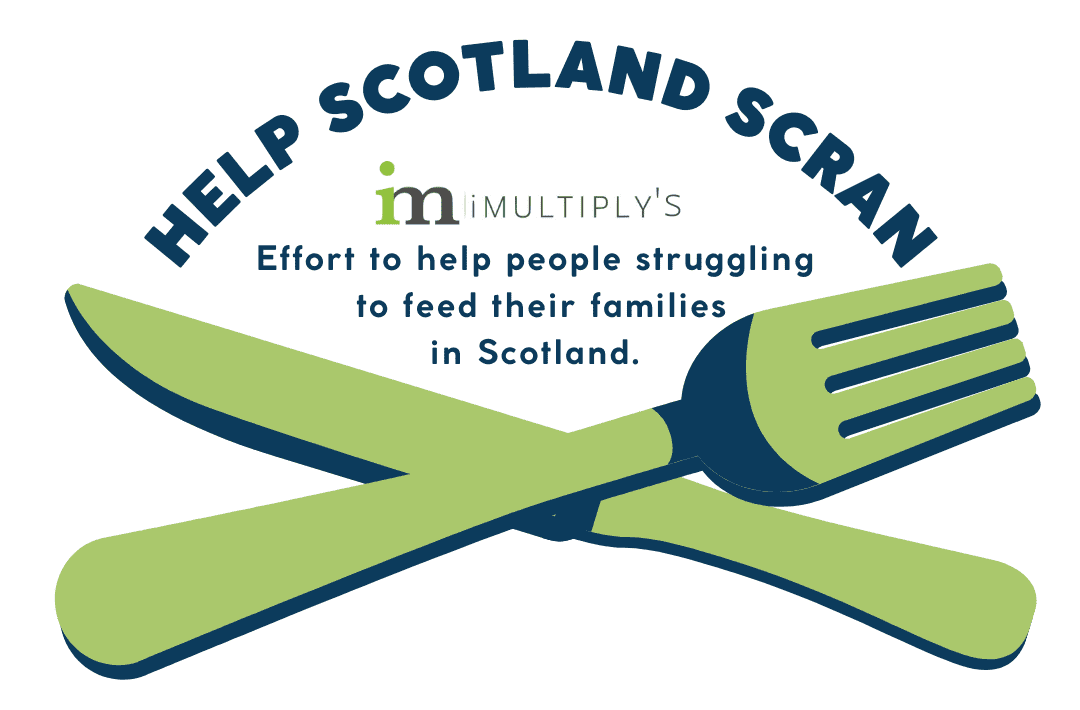 Move On
Move On works with young people across the Central Belt of Scotland to empower them out of difficult circumstances. They operate a number of initiatives, from two social enterprises to mentorship programmes and sustainable employability training. Whatever individual goals for their future a person might have, Move On supports them on their journey towards that goal. Since 2020, they have made an impact in the lives of hundreds of people across Scotland. In Glasgow, their FareShare enterprise directly addresses the causes of food inequality and helps bring surplus food to people in need.
To learn more about Move On, find them here.
COSS
Community One Stop Shop (COSS) has worked to alleviate the effects of poverty and deprivation in the Broomhouse area of Edinburgh and beyond since 2002. COSS takes a multi-layered approach to helping the local community, providing welfare and employability advice, and operating a self-referral food bank and accessible pantry, amongst other outreach initiatives targeting various age groups and areas of need in the community. COSS supports people in crisis situations, who lack the access and ability to find help through any other means. The name truly encompasses what COSS is all about- a single space, ready to support its community through any kind of hardship.
To learn more about COSS, find them here.
FOR THE GREATER GOOD
Current Trustee Opportunities.
If you are a charity currently looking to hire a trustee, iMultiply will advertise your job advert free of charge on our website.
Simply send the details of your role below and a member of our Marketing Team will get in touch to help you set it up.
Cargo Bike Movement – Board Positions Available
Are you passionate about bikes and their ability to shift hearts, minds and other stuff?
If so, Cargo Bike Movement is looking for new board members and we would like to hear from you!
Cargo Bike Movement is a charitable organisation based in Edinburgh with a mission to develop the use of cargo bikes in our built up areas to:
Redistribute surplus supermarket produce to those most in need.
Loan cargo bikes to individuals and organisations so that they might rely less on cars or vans in our city centre.
Run events and engagements that promote this sustainable, affordable and healthy way to travel.
MORE WORTHY CAUSES
Help Businesses Help Your Business
The Maternity Pledge is a social enterprise that provides support for the transition into motherhood, otherwise known as matrescence, and improves maternity leave and the return to work for new mothers. The Maternity Pledge achieves this via their workplace pledge and unique Matrescence Packs. And guess what, your company could join the pledge too!
Did you know that
60% of women leave work after they return from maternity leave (workingmums.com)
1in 5 women don't feel like their colleagues and managers understand what they've been through during maternity leave (Tena)
Corporations with more than a quarter of women on their executive committees realised a profit margin of 16% – more than 10 times higher than those with no female board members (The Pipeline)
The Maternity Pledge ensures that the new mothers in your organisation get the best experience of maternity leave, and return to work feeling valued and supported. By following the five pillars of the pledge and sharing the unique matrescence packs with both mothers and fathers-to-be in your organisation you can give them extra support as they navigate this transitional time in their lives.
a solution for you
Explore our Specialisms
Industry & Commerce
Working with ambitious and entrepreneurial businesses looking for the best financial talent.  
Not for Profit
From charities and education, to housing and social enterprises, we help not for profit organisations build their finance teams.
Accountancy Practice
With 230,000 employed in accountancy firms across Scotland, we've got a team of specialists to help you enter or move within this sector.
Executive SERVICES
The role of the Executive and Non-Executive, both within finance and across the Board, is evolving. Our team have an in-depth understanding of the leadership market.
Interim Appointments
iMultiply is highly experienced at pairing talented professionals with critical and mission-specific interim finance roles.
Agile FD
Our Agile FD network of experienced Finance Directors are available on an interim basis and offer the perfect solution for businesses at all stages of the growth journey.