The impact of COVID-19 on finance leaders and their teams
In mid April 2020 we asked 60 finance leaders operating in various sectors across Scotland about the impact of COVID-19, this is a snapshot of what they said:
88% of finance leaders have seen an increase in demand on their time.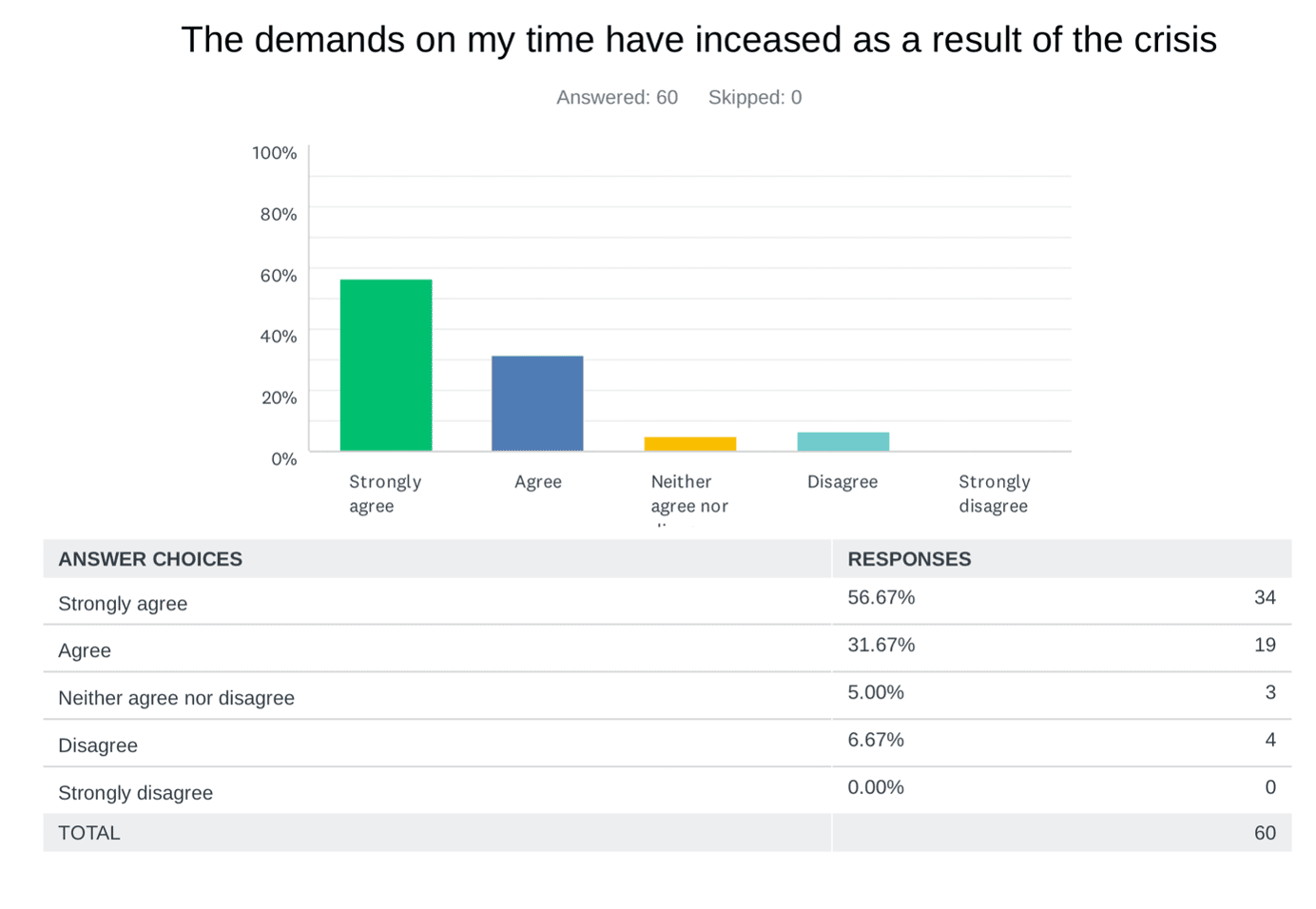 We're not surprised, most business operations have been severely impacted as a result of COVID-19. Finance leaders are navigating an extremely fast changing and challenging economic environment, juggling remote teams, cashflow pressures, new and developing government guidelines/support, scenario planning, supplier negotiations… we could go on…
Most finance leaders are feeling stressed, with only 19% leaning towards being more relaxed than stressed.
We asked finance leaders to consider their current top priority and although expressed using different language there were common themes.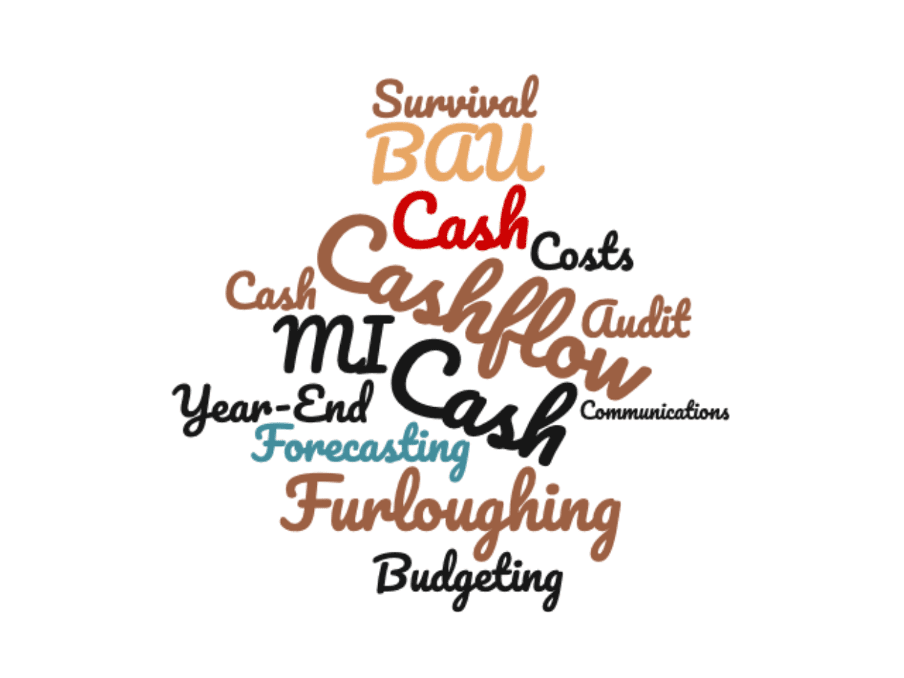 50% stated cash management as a top priority. Closely followed by forecasting; cost control; providing live MI; maintaining business operations; applying for appropriate support; year-end accounts and audit. 
One individual wrote that their priority was "planning for recovery" and it's got us wondering how far into the future finance leaders are looking? (Perhaps a discussion for another day.)
On the whole finance leaders are facing a number of people challenges just now, communication with the team is likely to be more challenging than usual due to most working from home. This too no doubt impacting team collaboration and staff productivity for most. Those that selected 'Other' highlighted anxiety and potential for burn out as a challenge, with 4 respondents noting that they weren't experiencing any people challenges.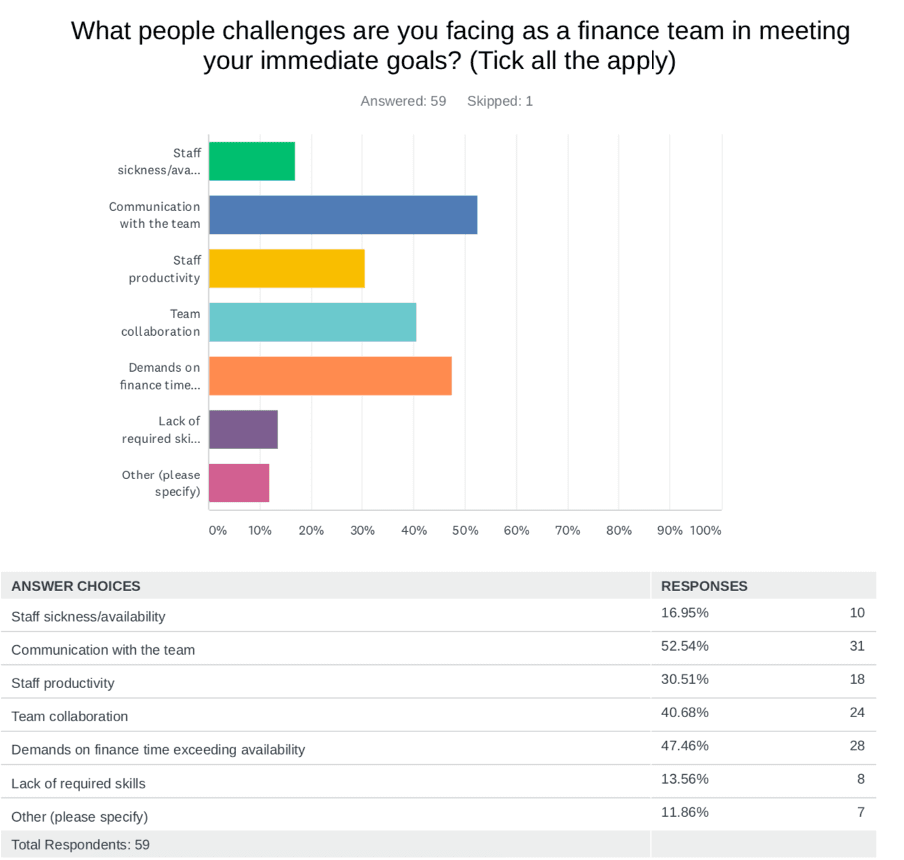 Our survey suggests that over the next 12 months, 33% of finance leaders are going to require additional support within their finance function. Mostly likely taking the form of temporary workers. To us this insight makes sense, with increased demand on finance functions but uncertainty around the future, temporary workers can provide the skills required in a flexible manner.
When asked whether the government support initiatives are adequate 57% felt that they are, with 20% disagreeing and 23% sitting on the fence.
Looking to the future, we asked 'what will be the biggest change in your finance function when this is all over?". Again there were a number of common themes with many responding to say there will be more emphasis on traditional disciplines such as cash management and aged debt control. Furthermore, it looks like there will be an increased acceptance of remote/flexible working with the feasibility and impact of remote working being more regularly reviewed.
Other responses included:
A focus on navigating change
An emphasis on more accurate forecasting
More data stored electronically
Upgrading risk management systems
More regular review of costs
It's important to note that a handful of respondents also expressed that it's too early to understand what will be different.
As we navigate these times together, we hope by sharing these results you find comfort from the commonalities and that it encourages you to reach out to your peers and support each other.
These are undoubtedly challenging and uncertain times but we are part of a strong and supportive business ecosystem.
iMultiply is here to support, we have a large network and if we can connect you with anyone that would be useful please just let us know: hello@imultiplyresourcing.com
finding this interesting?
Why not share it with friends?